Posts Tagged political correctnes
All 2012 Olympic 100m dash finalist will be black. How can we make such a racist prediction?
The fastest non-black man in the world, European champion  (Christophe Lemaitre) decided to skip the 100 m run. 9 Olympic participants run faster then Lemaitre in 100meters. He has no chance for a medal in 100 m, while he has been #4 this year in 200 meters.
In the last decades, Olympic finals and semifinals in 100 m running dashes consisted (almost?) exclusively of Black men and women.
BEIJING OLYMPIC GAMES | MEN'S 100M ATHLETICS FINAL. Where are the Asian finalists? Discriminated against?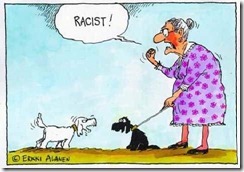 71 fastest runners on earth: 1 white Christophe Lemaitre & 70 blacks. Are races equal?
Conventional wisdom teaches us that race is only skin deep. Gender and race are socially constructed. If there are more men then women in top CEO positions, then this is due to discrimination by the evil patriarchy.If Blacks are underrepresented in top Universities, it is due to the never-ending legacy of 19th century slavery.
Equally, the lack of Whites and Asians in the 100 m Olympic finals must be due to discrimination. As everyone knows, all races are equal. Actually, race does not exist. Check this playlist of 25 100m races . I saw one lone white man among all the Blacks. Even Asian games and European championships consist largely of Blacks.
Discrimination everywhere?
Police were called, the justice secretary office of the state of São Paulo opened an inquiry into the crime of racism against a stand up comedian. 1 One owner of the nightclub was arrested and released on bail. The night club might get closed down. Sanitary authorities were called and the night club's kitchen was closed. An alien kitchen worker was sent home to get his documentation.
The crime: a racist joke
The crime? Black comedian Felipe Hamachi had called a black musician "monkey".  At a comedy show where all guests had signed a waiver, that they are aware that they can be the target of offensive humor and jokes. The musician was not a paying guest and had not signed the waiver. Rather he worked in the show, but had mingled with the paying public. Legal officials stated that the waiver was legally invalid, as nobody can sign away their human rights. A comedian that can not make jukes without offending a large portion of the  population should change his profession.
The district attorneys will "take the measures they deem appropriate in relation to stand-up that offend blacks, women, homosexuals and people with disabilities"   Prosecutors handling case of Black musicians who was called monkey/ original
One commentator stated:
All humor has a "victim". Prohibiting jokes about blacks while those about Portuguese, blondes, Japanese and several other groups are allowed, it is more racist than the offensive joke itself.