Arthur Jensen, a University of California, Berkeley professor whose scholarly contributions to the field of psychological measurement were often overshadowed by the furor over his findings on race-based differences in intelligence, has died. He was 89.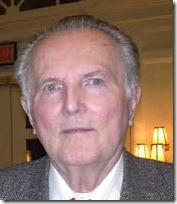 Arthur Jensen died on Oct. 22, 2012.
Arthur Jensen said genetic differences accounted for IQ gap between whites, blacks.
Arthur Jensen had stumbled over the truth. The inconvenient truth, that must not be said, because it contradicts political correctness' decrees. Publishing and interpreting taboo scientific findings caused a lot of hostility towards Jensen.
One of the most provocative figures in 20th-century psychology, Mr. Jensen died Oct. 22 at his home in the Northern California town of Kelseyville. He had Parkinson's disease and other ailments, said his son-in-law Joe Morey.