San Francisco's so-called "Happy Meal ban" goes into effect Thursday, but McDonald's has already found a way around it.

The ordinance prohibits fast-food restaurants from including free toys with children's meals that don't comply with nutritional standards.
McDonald's answer? It will charge 10 cents for the toy. The proceeds will be donated to Ronald McDonald House, the company's charity for children with cancer.
It would be more behooving to start a charity for childhood diabetes and other obesity related diseases.  An NGO for promotion of exercise also could help undo the damage.
[…] that McDonald's response "allows them to continue marketing this unhealthful food to children in the midst of an obesity crisis."

Eric Mar, the member of the Board of Supervisors who led adoption of the law, called the 10-cent charge a "marketing ploy," but he told The Associated Press that he didn't plan to seek any changes to address the tactic.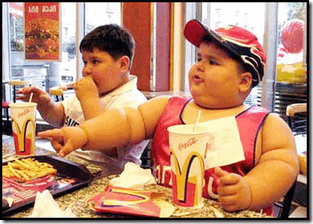 Maybe he should change his plans. We are talking hundreds of millions of children, world wide, heading towards a life of obesity, disease and early death. And almost nothing is being done about it.
McDonald's, said all of the company's U.S. stores would offer Happy Meals with apples and smaller servings of french fries by March.
We are amazed how McDonald's escapes through a loop hole huge as a barn door and can continue to cause grave damage to children. The damage is not just the one happy meal, but conditioning malleable children to a life-long preference of wrong foods.
Human-Stupidity is amazed, how, on the other hand, any loop-hole gets closed to prevent people from seeing so called child porn, due to voodoo theory. In spite of evidence by professor Milton Diamond that Child pornography viewing reduces child abuse.
We would like to invert the situation: seducing children to grievous bodily harm should be a crime, whose damage has been clearly proven.
Should Parents of Obese Kids Lose Custody? Yes. They expose children to harm. Our entire system needs to be revamped. Feeding children into obesity, allowing them to sit all day on video games and in boring schools, all this needs to be seriously changed. Social workers, advertising, public relations, all need to work together to save our children.