Valeria Ajovalasit's Arquidonna women's rights group sues Italian president Silvio Berlusconi. For violating laws enacted due to pressure by the same feminist groups, based on false manipulated data, warped logic and under abuse of male chivalry and concern about women's well being. [Similar issues are at the US supreme court in the Wal-Mart class action suit).
| | |
| --- | --- |
| Valeria Ajovalasit, president of Arquidonna women's rights group, feels degraded by Italy's president Silvio Berlusconi's allegedly paying a beautiful 17 year old for sex. For wrongly paying money to a girl that wanted money, Valeria Ajovalasit and Arquidonna now want Berlusconi to pay all women of Italy, without receiving sex in return. | Ruby 'the heart stealer' cashes in: The woman at the centre of sex allegations surrounding Italian Prime Minister Silvio Berlusconi has cashed in on her fame by appearing in an Italian commercial. |
An Italian women's rights group has asked the court overseeing Silvio Berlusconi's sex trial for the right to seek compensation from the prime minister, claiming that he has offended the dignity of all Italian women.
Italian women seek compensation from Silvio Berlusconi| The Telegraph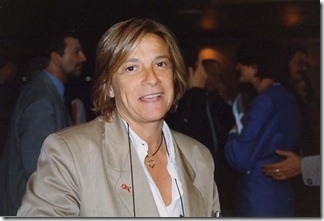 Amazing how easy it is to offend the dignity of all Italian women. Now feminist laws that were enacted in the last 50 years gravely offend the dignity of men by criminalizing more and more behavior that formerly was normal and legitimate.
Berlusconi could legally have sex with that woman, but if he gives her money, then it is illegal, thanks to laws enacted by the same women's groups that now want to extort money from Mr. Berlusconi. Based on falsified numbers about sex trafficking (The Myth of Sex Trafficking)
Legitimate mainstream magazines, movies and newspapers from the 1970's now are child porn, and tens of thousands of men are in jail getting special rape attention from gangsters.
The antifeminist had the glorious idea: men's groups unite and countersue.
If Italian women get offended by a man (maybe, allegedly) having sex with a woman over the age of consent, imagine men's offense at risking jail for looking at photos, for going to jail for having sex with women who lied about their age and presented fake id (Victim dupes man into raping her. How can you rape without knowing you are raping?). This does not offend the dignity of all men?
If there existed such a men's rights lobby group in Italy, it could make a counter-claim against the feminists who passed the original anti-prostitution laws that criminalized the sexual choices and restricted the opportunities of all Italian men.  Including the feminist advocacy lobby groups that lobbied for such laws (that no doubt include the group behind this absurd claim against Berlusconi).  As I and others have documented, such lobbying has clearly been based upon deliberate lies, falsehoods, and exaggerations.  The antifeminist
Women have fought to restrict and jail men and to take over the world's courts and justice systems. This has been on-going for over a century (The Fraud of Feminism – Ernest Belfort Bax (complete) year (1913!) ). It is time for men to wake up, unite, and fight back.
Feminist organizations lying about data