Judge throws out George Zimmerman's libel suit against NBC
A Sanford judge today put an end to George Zimmerman's libel suit against NBC Universal.
Circuit Judge Debra S. Nelson ruled that the former Neighborhood Watch volunteer is entitled to no money from the media giant.
George Zimmerman was ruined by undue and unjust persecution due to the perverse manipulation of public opinion by the press and the justice department. Like most PC (political correctness) lies [3] , this also remains unpunished.
She issued a summary judgment in the network's favor, meaning that unless an appeals court reverses her, the case is now dead.

Zimmerman had filed suit two years ago, accusing NBC of falsely portraying him as a racist in a series of broadcasts shortly after he killed Trayvon Martin, an unarmed black 17-year-old, in Sanford.

Editors shortened audio from a 911 call Zimmerman made to a police dispatcher the night of the shooting, making it sound as if Zimmerman volunteered that Trayvon was black and that he racially profiled the Miami Gardens teenager.
Human-Stupidity has reported totally biased press reporting and travesty of justice in the George Zimmerman case. One of the worst being the omission of the following photos
1) This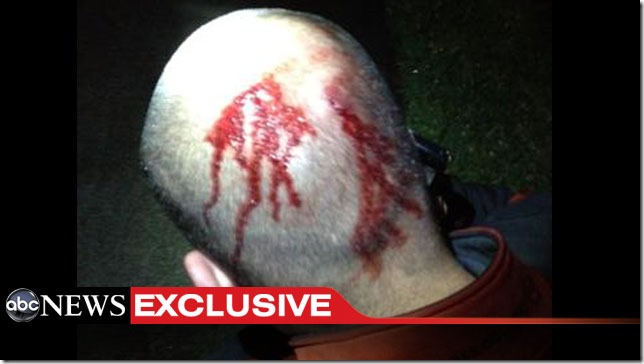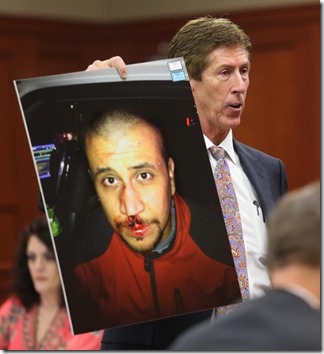 2) and George Zimmerman, his face bloodied, immediately after his fatal confrontation with Trayvon Martin.
Please read our lengthy writings about the George Zimmerman / Trayvon Martin self defense case.
Especially here we show more photo manipulation by the press: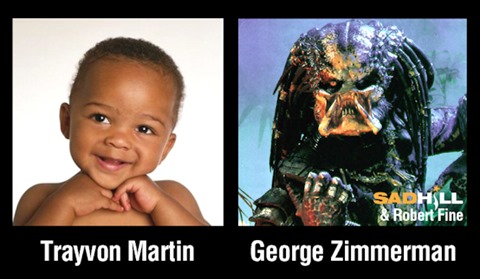 George Zimmerman verdict: guilty in public opinion. Lawyer Mark O'Mara's toothless defense is the culprit
The blatant misrepresentation of George Zimmerman and Trayvon Martin's picture was only surpassed by biased media reporting, undue interference by none less president Obama, illegal action by the prosecution (hiding of evidence), unpunished death treats and lots of serious beatings to innocent's under the guise of "This is for Trayvon".
They even lied about the ice tea: Articles: What the Media Choose Not to Know about Trayvon// Press Perpetuates 'Iced Tea' Myth in Coverage of Zimmerman Verdict and Trayvon Martin Demonstrations // Was Trayvon Martin using a street drug called "Lean?"
Also compare the vigor with which cruel violent hoodlums were defended, declared innocent, and recompensed, just because they were Black and Hispanic, and the victim was white: "The Central Park Five": Hoodlum robber rapists unjustly rewarded with US$ 40 million | Human Stupidity 
Wait, there is more! This article continues! Continue reading "George Zimmerman's libel suit against NBC dismissed" »
George Zimmerman's libel suit against NBC dismissed
» continues here »