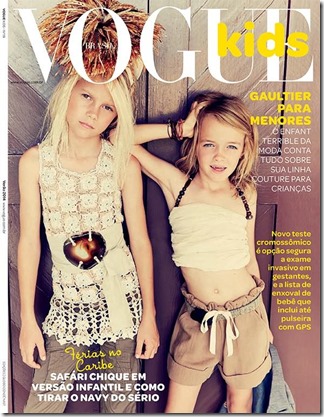 Famous Magazine Vogue has a Brazilian "kids" fashion edition once a year.  Fully dressed children's photos can be child porn (See copine scale), which according to the Voodoo theory of child pornography scars children for life each time someone looks at the picture.
"Vogue Kids" magazine, distributed this month with "Vogue", was criticized on social networks and accused by an institute for publishing photos of underage girls in sexy poses, dressed in a bikini. In some images, they are lying down with their legs open.

Complaints about the "Shade and Fresh Water" photo shoot spread in social networks sites and found their way, on Thursday (11), to state and federal prosecutors as well as the Federal Police. The agencies will evaluate the case.
A court issued an injunction demanding the distribution of the magazine issue to be stopped and already sold issues to be collected. (links follow below, after trigger warning)
"These are girls in sexy poses and [there is] a clear premature sexualization of these children," says psychologist Lais Fontenelle, which is part of the entity.

To the psychologist, the girls are doing clothing ads, which is vetoed by Conanda (National Council for the Rights of Children and Adolescents), linked to the Secretariat of Human Rights of the Presidency.

This year's agency resolution prohibits advertisement targeted to children. Folha de São Paulo
The photos in question could be Copine scale level 5: "Deliberately posed pictures of fully, partially clothed or naked children in sexualised or provocative poses."
Senators demand punishment: "They want to call the parents of the children that were photographed, and punishment of all involved. Aruda agrees with the colleague and says that the country urgently needs to fight child abuse.  Public prosecutors must hold responsible  the company's executives for this crime.  The magazine abused children, notwithstanding parental consent. We can not allow our children to make sensual poses in magazines that seek only economic exploitation.
Wait, there is more! This article continues! Continue reading "Vogue Kids Brazil confiscated for Child Porn Content" »
Vogue Kids Brazil confiscated for Child Porn Content
» continues here »