Diversity is strength.
Soccer players all are tall, lean, muscular, long legged young males.
Athletes can gain from the experience of dealing with diverse people. The input from disadvantaged minority people with different life experience, who dribble differently can be a new enriching experience.  A diverse team will have a more diverse, and thus improved soccer game.
"No soccer player left behind", mainstreamed training would train the world elite players together with normal high school soccer players, women, amputees and midgets. This helps to close the achievement gap and makes sure the top soccer players remain humble and maintain the ability to play soccer with regular people.
National teams of all nations are hobbled by choosing their players among a tiny percentage of the population that is  
tall
long legged
young
able bodied
males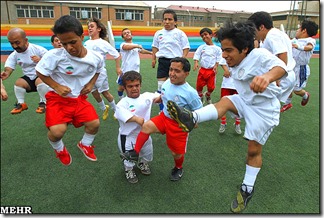 Small people (dwarfs) are discriminated against. Since elementary school, they are told they aren't good athletes. As a consequence of this low expectation, they actually end up as low performers and are excluded from sports events.  As a result of this unjust exclusion, even the smallest top soccer players in world cups are all over 168 cm. In basketball, this "heightism", discrimination by height, is even more pronounced.  Additionally, sport is sexist. Women are born with equal talents as men, but no women participate in the most highly paid leagues. Women soccer players must be paid the same as men, as in tennis.
All countries could vastly improve the quality of their national soccer teams if they did not restrict themselves to a small minority but selected from the huge number of excluded disadvantaged minority people. 
Because the tall, long legged young men's club keeps picking low quality players, clubs must be forced by quota regulations to pick minorities.  Just as women quota have improved the bottom line of European Companies.
The game of soccer will vastly improve, once we choose our players equally from the huge talent pool of millions of
short people under 140 cm (height-ism)
short legged
mature people over 55 (age-ism)
disabled (able-body-ism)
women (sexism)
other genders (transsexual, transgendered, …)
One can find excellent soccer players in all these groups. It has been scientifically proven that diverse teams, that don't select players from a privileged minority but rather from the entire vast diversity of the world's population have only to gain.
National coaches don't know how to choose right and need to be forced to do wiser choices for the improvement of the quality of their national teams. Therefore I suggest the following quotas, effective today, so the quality of the 2014 Soccer World Cup games in Rio de Janeiro will improve immediately:
10% short people
10% short legged people
20% mature people over 55
10% disabled
20% women
10% other genders, transsexuals, etc
10% obese
Ideally, for maximum diversity and maximum improvement of the world cup soccer game, a coach should pick an obese 70 year old 120 cm (4′) short legged transgender woman dwarf amputee.
If this talented person does not get hired, civil rights lawyers can help her to sue for lost income, based on the million Euro salaries soccer professionals earn.
See:
Our next project will be quotas for
Dwarfs
Women
underrepresented Whites
in the National Football League and the National Basketball League