All 2012 Olympic 100m dash finalist will be black. How can we make such a racist prediction?
The fastest non-black man in the world, European champion  (Christophe Lemaitre) decided to skip the 100 m run. 9 Olympic participants run faster then Lemaitre in 100meters. He has no chance for a medal in 100 m, while he has been #4 this year in 200 meters.
In the last decades, Olympic finals and semifinals in 100 m running dashes consisted (almost?) exclusively of Black men and women.
BEIJING OLYMPIC GAMES | MEN'S 100M ATHLETICS FINAL. Where are the Asian finalists? Discriminated against?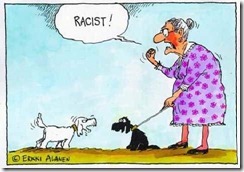 71 fastest runners on earth: 1 white Christophe Lemaitre & 70 blacks. Are races equal?
Conventional wisdom teaches us that race is only skin deep. Gender and race are socially constructed. If there are more men then women in top CEO positions, then this is due to discrimination by the evil patriarchy.If Blacks are underrepresented in top Universities, it is due to the never-ending legacy of 19th century slavery.
Equally, the lack of Whites and Asians in the 100 m Olympic finals must be due to discrimination. As everyone knows, all races are equal. Actually, race does not exist. Check this playlist of 25 100m races . I saw one lone white man among all the Blacks. Even Asian games and European championships consist largely of Blacks.
Discrimination everywhere?
Does the American basketball league discriminate against whites? 70% of the players in the US basketball league are black!
How come, Jews, a discriminated group, earn 30% of US Nobel Prizes even though they are only 3% of the population?
If you see a tiger approaching you, do you stereotype the tiger and run? Or do you first try to find out about the individual tiger before you make a discriminatory decision?
How Much Can Discrimination Explain? | Walter Williams
Olympics Beijing 100m Finals for Women. Blacks only, in clear discrimination against White and Asians races
There are a few Whites in the European Finals. Consider that Europe is mainly white, and that the European Championship winning time would have scored 8th place in the Jamaican championship final. Christophe Lemaitre decided not to run in the 100 m dash in London's 2012 Olympics.
European Championship Finals Helsinki 2012
He added: 'In the results over 100m, Christophe is only ranked 10th among those who have entered.

'Over 200m, we can hope for a medal.'

Carraz did hint, though, that any significant withdrawals from the 100m might prompt a rethink

Lemaitre, the first white man to break the 10-second barrier, has only run 10.04secs for the 100m so far this year.

He is the world No 4 over 200m, though, having clocked 19.91s to win the Diamond League meeting at Crystal Palace 12 days ago.

Lemaitre also won 200m bronze at last year's World Championships in Daegu.
Did not see any non-Black competitor. Did you see any Asian or White?
Mexico 68 Olympic 100m Men's Final. Whites need not apply.