Beauty contests "reduce women to their parts" and are an "appalling offense against women's equality".
Another female privilege: Which men have the opportunity to get free travel and a million dollar prize, just for their looks?
Men don't have such chances. Mr. Universe steroid freak show, and prize boxing both require talent, hard work and entail serious health risks.
Getting beat to pulp in a boxing match (while women watch and cheer the winner) is not an appalling offense against men's equality and does not reduce men to their parts?
We at Human-Stupidity never cease to wonder why such idiotic perverted logic by feminists and the politically correctness movement will be copied by serious newspapers and taught in women's studies courses at serious colleges. Our friend the antifeminist would probably explain that the Miss Universe contest is an appalling offense against old ugly feminist's equality.
Woman who studied in a nunnery is crowned Miss World 2011|Daily Mail
LONDON A human resources graduate from Venezuela, whose ambition is to work with children, was crowned Miss World 2011 at a glittering beauty pageant in London on Sunday.
Ivian Sarcos, 21, took the ultimate beauty accolade at Earls Court in London, the city where the first Miss World was staged in 1951.
Outside the venue, a small feminist demonstration took place, protesting at what they said was an "appalling offence against women's equality."
The beauty contest was broadcast live to more than 150 countries and was watched by a billion viewers, organisers said.
The competition has drawn criticism in recent years for being outdated and little more than a chance to look good in swimwear.
But of the 122 contestants whom Sarcos beat, a quarter are graduates and more than half speak three or more languages.
Contest still watched by 1 billion people worldwide reduces women to 'the sum of their parts', say demonstrators

Demonstrators gathered in Earls Court, west London, as the Miss World contest returned to a London venue for its 60th anniversary show. Around 50 protesters carried placards that read, among other things, "Miss Deed" and "Miss Ogynist".

Rebecca Mordan, who helped organised the protest, said the wide age range of the protesters showed that feminism was still relevant today.

"You can't pull the wool over young women's eyes," said Mordan. "They're living and growing up in a culture that sees pornography as increasingly mainstream.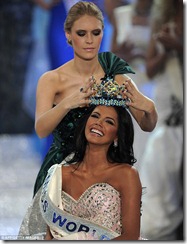 What is the problem? Pornography gives an outlet to men and has been proven to reduce rape and violent sex crimes (Milton Diamond). This clearly shows that the safety and well being of women is not the goal of these feminists. Miss World does not look like a suffering victim who feels reduced to the sum of her parts.
This is the soft end of that, reducing women down to the sum of their parts."
And reducing women to the sum of their parts? 
The Miss World event, involving women from 113 countries, is still watched by an estimated 1 billion people around the world.
Well, feminists will do their best to prevent these misogynists from having fun. And will send the Miss contestants to some harder work that is less fun and less profitable. Best they will prohibit little girls from posing in front of mirrors, because this is the beginning of objectification. That leads to objectifying gaze, harassment, rape culture.
The first contest was hosted on the South Bank in 1951 during the Festival of Britain and judged by British born US comedian Bob Hope and in 2002 the final had to be moved to London at the last minute when approximately100 people were left dead in Nigeria after comments in a local newspaper suggesting that a contemporary prophet Mohammed might take a bride from the pageant sparked three days of rioting.
The pageant is the problem. Muslim indoctrination of children, boys and girls, and subsequent rioting is not as important an issue as preventing women from participating in beauty pageants.
Kat Banyard, author of The Equality Illusion and founder of the organisation UK Feminista, said the competition had no place in modern Britain. "We're here because Miss World has absolutely no place in a world that treats women and men equally. It perpetuates the beauty myth [and] indoctrinates people across the world with its toxic ideals, We know that [those ideals] have a very harmful effect." Banyard said.
This unscientific gibberish indoctrinates modern men, women, the press, and politicians. The harmful effects are girls having fun, making money and men enjoying the show. And, as the antifeminist would say, men getting distracted from their aging feminist wives and colleagues. A Muslim veil is the best solution.
"The more a girl sees herself as an object, the more ashamed and disgusted she will feel about her own body. And that has massive implications from everything from being too ashamed to go to physical education lessons to developing an eating disorder."
Miss Universe looks really ashamed and disgusted at herself. She looks slightly skinny, but not enough for an eating disorder. Girls that get ashamed for not looking as good as her, well that is a problem to be tackled by parents and society. Same as boys who feel ashamed for not looking like Mr. Universe
Violet Ramodike and Maud Kgomo, who flew into London on Thursday to support their sister, Miss South Africa, Bokang Montjane, disagreed.

They said their sister had built a library in a rural area and helped educate school children about teenage pregnancy. "She's beautiful, confident, intelligent," they said.
Great. The women involved in the contests are not downtrodden victims and even know how to fend for themselves.
But Banyard refuted the idea that Miss World was more than aesthetics. "This is a contest which is about judging women by their looks," she said. "It's tried to adapt to feminist criticisms but it's Miss World; everyone knows what it is about."
That is right. Involving too much intelligence in a beauty contest shows that society is caving in to feminists.
Should Evolution be taught in School? (Miss USA 2011 – 51 Delegates Interview)
But that is not enough for feminists. Does anyone demand proof of intelligence for prize boxers, ultimate fighting champions or even Mr. Universe?
Clara Belle, the current Miss Durham and a Miss England finalist, said protesters had failed to understand pageant culture..

"They have this view of pageants and the girls who do them and it's not the correct view," said Belle, 23, who took part in her first pageant whilst researching for her gender module as part of her degree in american history and politics at Warwick University.

"We're there by choice, we enjoy it, we support each other. There's a lot of friendship, we build our own confidence, we learn to speak on stage and getting involved in our local community and raise money for charity. Just because beauty is the main focus of it, doesn't mean that it doesn't do a lot of good things."
Feminists do all they can that this fun will end.

40 years ago, feminists disrupted this sexist contest in spectacular fashion, with chants of 'We're not beautiful, we're not ugly… we're ANGRY!!' Let the organisers and all those profiting from the event know that we are ALL angry that such an event is once again being held here in London, 40 years later. Bring placards, banners and raise your voice against this appalling offence against women's equality. Let them know loud and clear that this event has NO PLACE in London in 2011! London Feminist Network

Being a woman is not a competition!
It is interesting to note that the revival of the sexist 1970s style beauty contests, which is very much a part of a general pornification of culture, is taking place at a time when women and men are actually becoming more equal in education and a time when girls are even outdoing boys at school. It is as if to remind us that as women, no matter how intelligent you are, your worth is still dependent on how you look. This is not liberation, it is a backlash.

It is interesting to note that the revival of the sexist 1970s style beauty contests, which is very much a part of a general pornification of culture, is taking place at a time when women and men are actually becoming more equal in education and a time when girls are even outdoing boys at school. It is as if to remind us that as women, no matter how intelligent you are, your worth is still dependent on how you look. This is not liberation, it is a backlash.
To sum up:

The reintroduction of beauty contests is another example of how sexist practices are becoming seen as a normal and mainstream part of our lives rather than as sexist and outdated.

Beauty contests reinforce the idea that women are only of value according to their attractiveness and they reduce women to objects to be judged and compared on the basis of our appearance.

This erodes our human rights to be treated as equals and is therefore an issue for all women, not just those involved in the contest.
I have to restrain myself so I don't make sexist remarks about woman's lack of logic.
But, on the opposite, women's immense capacity to distort facts and make everyone believe that nonsense is admirable. After all, they got women's studies in serious colleges and even took over the United Nations and EU with child porn initiatives, age of consent increases and more. They get away with falsified statistics, like one in four rape lies. They managed the abolition of due process for men accused by women. We are in awe about feminist success.
As women we have fought long and hard for the right to be treated and respected as thinking individuals, not as objects who exist in order to 'look good'.

We want so much more for all women and that is why we are protesting the Miss World beauty contest!