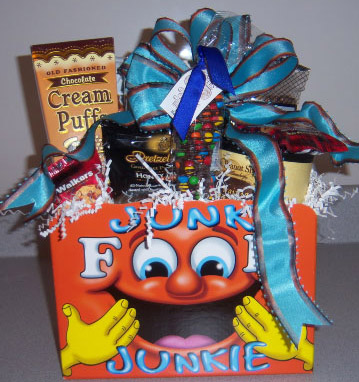 Human Stupidity at its finest: We crate our children to be unhealty fat and sedentary. We actively entice children to become unhealty!
In the study, which is published this week in the journal Pediatrics, Roberto and her colleagues presented 40 children ages 4 to 6 with paired samples of graham crackers, gummy fruit snacks, and baby carrots. Each pair of sample foods was identical down to the clear packaging, except that one of the packages had a sticker of Shrek, Dora the Explorer, or Scooby Doo on it.

Between 50 percent and 55 percent of the children said that the food with the sticker on it tasted better than the same food in the plain package. (The percentage varied with each food.) And between 73 percent and 85 percent selected the food in the character packaging as the one they'd prefer to eat as a snack.

Study: Cartoon characters attract kids to junk food (cnn)
Study supports motion to pull plug on food porn: Cartoon-adorned packaging catalyzes America's journey to obesity
Probably everyone knew this already. The interesting thing is that the cause of premature death of about 30% of our population is not reason for concern and for emergency action and emergency legislation.
"Parents may not set out to buy unhealthy products," says the lead author of the study, Christina Roberto, M.S., a doctoral student at Yale University's Rudd Center for Food Policy and Obesity, in New Haven, Connecticut. "But kids can be really, really persuasive. They see them and they want them, and it gets difficult to have that battle in the grocery store."
Facts about Childhood Obesity (CDC)
Childhood obesity has more than tripled in the past 30 years. The prevalence of obesity among children aged 6 to 11 years increased from 6.5% in 1980 to 19.6% in 2008. The prevalence of obesity among adolescents aged 12 to 19 years increased from 5.0% to 18.1%.1,2

Obesity is the result of caloric imbalance (too few calories expended for the amount of calories consumed) and is mediated by genetic, behavioral, and environmental factors.3,4 Childhood obesity has both immediate and long-term health impacts:

Obese youth are more likely to have risk factors for cardiovascular disease, such as high cholesterol or high blood pressure. In a population-based sample of 5- to 17-year-olds, 70% of obese youth had at least one risk factor for cardiovascular disease.5
Children and adolescents who are obese are at greater risk for bone and joint problems, sleep apnea, and social and psychological problems such as stigmatization and poor self-esteem.3,6
Obese youth are more likely than youth of normal weight to become overweight or obese adults, and therefore more at risk for associated adult health problems, including heart disease, type 2 diabetes, stroke, several types of cancer, and osteoarthritis.6

http://www.cdc.gov/HealthyYouth/obesity/