He was a good husband.  Out of the blue, his wife filed for divorce. She probably cheated on him before.  So he snapped. He drugged her and tied her to the bed, while unconscious. Then he waited, to make sure she was awake and would feel the mutilation. He cut off her breasts and ground them up in the garbage disposal. Isn't that funny? She sure will never die of breast cancer! Then he cut off her clitoris, and glued her vagina shut with ample quantities of super-glue. Teaches the slut a lesson!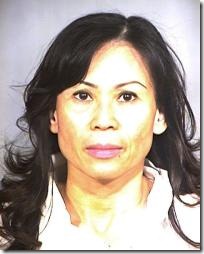 Then, in a TV talk show, a group of men makes fun of the story. Isn't it hilarious?  The spectators have hearty laughs and giggles.  Of course, it is not the same as cutting off a man's penis, because a penis is softer then a woman's breast. One moderate man actually says she did not deserve it, but he can think of a woman's crime where he would do just the same.
If a woman divorced him, got 50% of his salary  (before taxes) and gots him jailed for non-payment. Then he would discover he was cuckolded, the child was not his kid, and the courts still held him responsible for payment because he had acted as a good father and he was too trusting to do a DNA test early enough. Then the rage is understandable and she really deserves it. She still will recover and can take care of the bastard child.
Participants and audience laugh and giggle. They all agree, full of understanding.
He realized every man's secret dream. All men secretly dream of sexually mutilating a woman, to teach her a lesson.
---
I just inverted the sexes, for demonstration purposes.
Men are not that vile. Never ever would a male talk show host, audience, guests condone such barbarity against women, or make fun of it.  Only women are that mean, violent and vengeful to joke and make fun of male mutilation!  It is the secret fantasy of many women to cut off a man's penis. (People say this statement is misogynistic. I did not make this up, watch the video to believe that those woman have a good time joking about this abuse of a man)
Lorena Bobbitt cut off her husband's penis and later demanded and got an excuse. Of course, she got no jail sentence for that. She was justified because he was a philanderer and cheated. She had real fan clubs. Go ahead and google "Lorena Bobbitt jokes".  John Waine Bobbitt never went as far as many women to, he never got a baby from a mistress, much less made his wife pay and care for a baby that was not hers. He just, allegedly, cheated.  Amazingly his penis was found and re-attached.
Cutting off a man's penis and grinding it up afterwards is hilarious and funny
Catherine Kieu, 48 learned from Lorena's mistake. Her husband would not get his penis back. She planned meticulously. She drugged him first, tied him up. Made sure he was awake to see and feel the punishment he deserved. After cutting off the penis, she ground it up with the sink's electric garbage disposal. So she could be sure he never will use it again. A wonder she did not grind it while it was still attached. Or put it through a meat grinder, so he could look at it afterwards? She left him tied up. It is amazing that he did not bleed to death. She was very nice to call police, so after a long delay he finally got medical attention and would stay alive, so he could live the rest of his life without a penis and ponder what he did wrong. He must have done something to hurt her, make her angry, to deserve it.
The tax payer is paying her lawyer. I am sure he will plead battered woman syndrome, not guilty for reasons of insanity. After all, Lorena Bobbitt got away without punishment.
It is not clear if she destroyed his testicles, too. In that case, our hero would also have to extract the woman's ovaries, to make the above example equal to Caterine's crime.
On Monday night, police say Kieu spiked a meal and served it to the victim.

The 60-year-old man started to feel sick and went to lie down, then awoke tied to the bed as Kieu attacked him with a 10-inch kitchen knife, police said.

She then put the penis down a garbage disposal, police said.

"It's hard to believe what would motivate a person to do this sort of thing," the district attorney's chief of staff, Susan Kang Schroeder, said outside court. "It's one of the worst things you could do to a person short of killing him."

Newly appointed defense attorney Lee Gabriel made no public statement after the hearing.

Police did not release the victim's name. He underwent surgery and was listed in good condition at University of California at Irvine Medical Center, hospital spokesman John Murray said.

Murray declined to say whether the penis was reattached or provide any additional details about the victim's condition, citing patient privacy laws.

Kieu was charged with one felony count of torture, one felony count of aggravated mayhem and sentencing enhancements for great bodily injury and personal use of a knife. If convicted of all counts, she could face life in prison without the possibility of parole.

Garden Grove Police Lt. Jeff Nightengale said Kieu called police Monday night to report a medical emergency and told arriving officers "he deserved it" before pointing to the room where the victim was found bleeding profusely. She was taken into custody without incident and refused to talk to officers further. Daily News
Men are abused and repressed from cradle to grave
We live in a world where men can be killed and mutilated with impunity. Where man lost their human rights and go to debtor's prison for not paying child support, even for a cuckold child. Where women get quota in politics and CEO ranks, but not in jail or on death row. Where women got equal rights in votes but not in the draft. Where boys are discriminated from cradle to grave. Female genital mutilation is a crime, but many boys get circumcised with no medical reason and with no anesthesia. Young male children get arrested for sexual harassment, school is run by women and so adapted to girls that now 57% of bachelors degrees go to women. Finally, women work less and retire earlier then men. So women receive many more years of retirement benefits. Men pay for woman's retirement benefits. Read Angry Harry. Become active. Embrace radical masculism to oppose oppressive radical feminism.