Brazil has a more healthy attitude towards sex and prostitution. They rather forfeited US Government money so they could do their efficient anti-Aids work without US moralistic influence.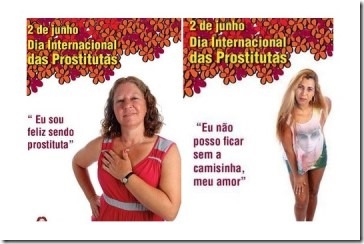 "I'm happy being a prostitute." That was one of the slogans the Brazilian health ministry posted online for several days this week until complaints from the nation's growing ranks of Christian Evangelicals forced the ministry to replace the message on Wednesday with a much tamer one: "Not ashamed of using a condom."

Part of a broader web campaign for International Prostitute Day, the message was meant to destigmatize sex work and its associated health risks, according to a Reuters report. The campaign also encourages prostitutes to seek medical attention when needed. Another slogan read: "I cannot be seen without a condom, my love," according to the Christian Post.
Brazil totally legalized prostitution for consenting adults. Buying and selling sex. But in a strange way Brazil made absolutely everything else illegal.  All kind of helping, intermediating, promoting, abetting prostitution, is punishable, even if not for profit,
Brazil has a mixed record when it comes to sex workers. Unlike other Roman Catholic countries, it publicly distributes condoms, encourages treatment for sexually-transmitted diseases and has pushed drugmakers to reduce the cost of AIDS medications sold there. But in part due to its high poverty rates, the nation has more than 250,000 child prostitutes
They had to put some sort of lies into that article. It could not be that Brazil has a healthy natural attitude towards prostitution.
Underage prostitution is severely prosecuted. Child prostitution is pretty rare, except in remote truck stops and Amazon gold digging camps. And, feminist language manipulation that defines 17 year olds as children does not help to bring about clarity.
and a million adult sex workers. Known for its liberal views on sexuality, it is also a top destination for sex tourists.
Human Stupidity reports that nowadays Sex is more cheaply available in Germany 4 5 then in Brazil.
With the Soccer World Cup headed to Brazil in 2014, the prostitution business is expected to boom, TIME reported earlier this year, so much so that Brazilian prostitutes are being offered free English classes to get up close and personal with their foreign clients during tournaments.
: Brazilian Prostitutes Learning English Before 2014 World Cup