Blacks are much more likely than nonblacks to have an opinion about Zimmerman's guilt. Overall, 72% of blacks say Zimmerman is definitely or probably guilty of a crime; 1% say he is not. Nonblacks also say Zimmerman is guilty, by 32% to 7%, but well over half of nonblacks say Zimmerman's guilt is unclear from the available information.
Blacks are more certain about their opinions than are nonblacks. Blacks who say Zimmerman is guilty of a crime are significantly more likely to say he is definitely guilty than probably guilty, while nonblacks tilt more toward the "probably guilty" choice.

Additionally, 72% of blacks say racial bias was a major factor in the events that led up to the shooting death of Martin, with another 13% saying it was a minor factor. Nonblacks, on the other hand, are significantly less certain, with 31% saying racial bias was a major factor, 26% saying it was a minor factor, and 25% saying it was not a factor at all Gallup
Human-Stupidity Analysis: different attitudes by race (that doesn't exist)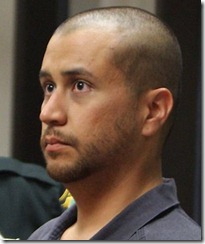 Amazing how white and black Americans have totally different perception. The truth can only be one. And the same evidence is known to all. Are racist whites biased and unjustly anti-Black?
Or maybe Blacks (and Liberals) have been taught that Blacks are always victims and never responsible for any negative fate. Not for lower educational and financial attainment of Blacs, their higher criminality. There always is a white repressor to blame. "I am misbehaving and having bad school results because there was slavery in 1860". If it is possible to distort the scientific race and iq discussion, how much easier is it to get a distorted view of a criminal case. As a matter of fact, Whites hide and distort black criminal tendencies. So, if anything, Whites already are biased in favor of Blacks. Add to this the proven lower IQ of Blacks, which makes it more difficult to understand complex issues and see through Al Sharpton's manipulations.
Of course, media manipulation, like selective editing of the 911 call to make Zimmermann look racist, using 4 year old photos of Trayvon when he was 12 and a mug shot of Zimmermann when he weight 50(?) lbs. more serves to get people up in arms against Zimmermann. To top it off,  spanish speaking and Peruvian Latino race Zimmermann is called a member of the evil white race.
Liberals and the biased manipulative press reports probably account for the 31% of non-blacks that believe Zimmermann is guilty. Gallup should also have reported if these 31% consist largely of people who don't follow the news and thus are the less informed.
And yes, Human-Stupidity already mentioned valid issues on both sides: the cover-up of criminal thuggery of a son of a Sanford policeman, as well as media neglect of black on white assaults in that same city in the same time period.
We are just mentioning the tip of the iceberg, much more thorough analysis is needed.  Why do the races (which allegedly are socially constructed and don't exist) have such clearly different opinion in the Trayvon Martin – George Zimmermann case, as in the OJ Simpson and Rodney King case.
In the Rodney King case we can see the tendency to assign human rights protection to a heavily drugged felon who endangered people in a reckless car chase and violently fought of police. In the Trayvon Martin case Human-Stupidity keeps pointing out that it is taken for granted that a black man can punch anyone for slight provocation such as following at a distance.
U.S. public opinion about the Trayvon Martin case in Florida reflects the same type of racial divide found in 1995 surveys asking about the murder trial of O.J. Simpson in Los Angeles. In one Gallup poll conducted Oct. 5-7, 1995, for example, 78% of blacks said the jury that found Simpson not guilty of murder made the right decision, while only 42% of whites agreed.
The situation in the Trayvon Martin case is different from the Simpson situation, however, because the victim, rather than the alleged perpetrator, is black. Still, both situations, even though 17 years apart, apparently tap into the same deeply felt views of the average black American that the criminal justice system in America is biased against blacks. Underscoring this conclusion, a 2008 Gallup Minority Rights and Relations survey found that 67% of blacks said the American justice system was biased against blacks, a viewpoint only 32% of non-Hispanic whites agreed with. […]

The average black American has strong views on the case, perceiving that Zimmerman is guilty of a crime and that race has played a major factor in the case. Nonblacks, by contrast, are much less likely to think Zimmerman is guilty and are substantially less likely to believe that race was a factor.  Gallup
See also
Human-Stupidity Analysis
Unfortunately, the Gallup data lacks more detailed analysis. Whey don't they differentiate non-blacks? Whey don't they publish, separately, the opinion of those that actually follow the case? The opinion of those who don't follow the case might be different and less relevant. This lack of proper analysis is equally annoying as the lack of the US Department of Justice to separate white Latino and white murder perpetrator prevalence.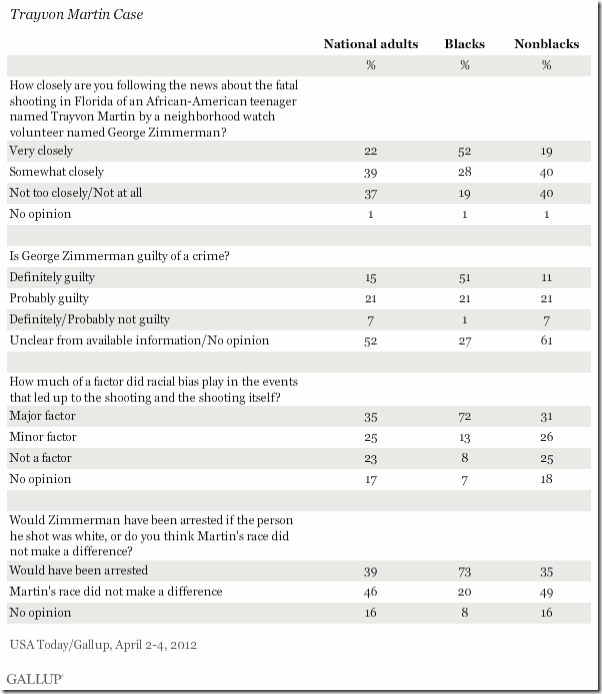 The tenets of our New Faith are naturally different from dialectical materialism, though our version shares its radical environmentalism (in the older sense): humans are largely if not entirely shaped by their environment, except for homosexuals, whose proclivities are innate.  The first commandment of the faith is relativism: there are no significant differences among sexes, ethnicities, religions, and races.  Disparities in standards of living are the result of Western oppression; the perception of these and other differences is "orientalism."

The second commandment is "tolerance."  If you question commandment number one, you are guilty of a hate crime and need to be punished by "diversity training," the more benign version of the "re-education" dissidents were subjected to in the Soviet Empire.
We disagree with the attitude of the following article, but value it for the interesting links it provides
On March 19, Beck's website, The Blaze, speculated without much evidence that Martin could have been suspended from school for drug possession, "sexual harassment", or "arson". TheMiami Herald spent four paragraphs listing 'suspicious' facts about Martin's bags (like "women's jewellery" and a "burglary tool") and on the same day, The Daily Caller, co-founded by Dick Cheney, published a compilation of tweets reportedly culled from Martin's deleted Twitter account, by an 'undisclosed source'. The Conservative Review immediately branded the teen"a criminal thug on his way to a life in prison".

The campaign of character assassination didn't stop with the right wing media. On March 25, a Twitter news site run by another Fox News contributor, Michelle Malkin, posted a picture of an entirely different Trayvon Martin which had appeared one day before on the neo-nazi websiteStormfront.

On March 29, a white supremacist hacker called 'Klanklannon' took up the work of Cheney'sCaller and leaked private messages he claimed belonged to Martin. The hacker invited people to log into Martin's gmail account and see for themselves, having helpfully changed the password to 'niggerniggernigger'.

Meanwhile, the conservative National Review had the nerve to fire contributing editor John Derbyshire on April 8 for looking beyond the controversy to the wider issues at stake. "Avoid concentrations of blacks not all known to you personally," he wrote in an article for Taki's Magazine, responding to Trayvon-inspired race debates by describing 'the talk' he gives to his kids. "Do not attend events likely to draw a lot of blacks," he went on (each point was backed up by a link to a crime or scandal which happened to involve an African-American). Avoid amusement parks if they are "swamped with blacks," he warned; "Do not settle in a district or municipality run by black politicians."

In the Fox-News-o-sphere's focus on Trayvon and its implication that Zimmerman needed "protecting" from a dangerous thug is the germ of the idea that brought Nazis to Sanford. Anything in Martin's life that was remotely 'suspect' (or, often, youthful) became evidence that he was a threat – better evidence, apparently, than prosecutors could ever provide.
More links on Trayvon Martin – George Zimmermann
by Human-Stupidity
by Wagist.com