"Sex Researchers suggest not to worry about the flood of nude movies on the internet"

In its cover story, German magazine "Der Spiegel" shows how Germans are more relaxed about sexuality: in spite the world wide porn hysteria, science was unable to show that the availability of internet porn is damaging to adolescents or children.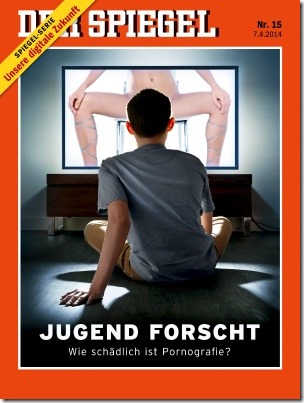 Feminist Alice Schwarzer advises women to drop boy friends  that insist on porn consumption. If all women followed such feminist advice, there would be no relationships left in this nation.
Canadian sex researcher Simon Lajeunesse failed to find 20 young men that were not yet polluted by the ever present porn flood. "We could not find a single one", he said.
In every school yard, every computer, cell phone, game console is a potential porn player.
Even more so, every owner of a cell phone is a potential porn producer or porn star. Women take a leading role sending their own photos and movies to their partners or their crushes. This is called "sexting".
At the end of relationships, some disgruntled men posts such porn on the internet. This genre is called "revenge porn".
18th century archeologists found huge amounts of smut images under the ashes of Pompeii: man with man, women with woman, gods with goats, anal, oral, vaginal. These shocking images were shamefully hidden in secret museums and could be watched only by men who could prove legitimate research interest.
Research is unambiguous: 12, 13 year olds are not endangered, not damaged by porn. They don't start sex earlier, don't have more partners, have no more pregnancy, sexually transmitted diseases, abortions then earlier generations without the internet sex. Sex information even has a potential positive effect as sex education.
The English "children's commissioners" report concluded, in 2013, that a causal relationship between porn and risky behaviors can not be shown.
Meta researcher Eric Owens reports in the New York Times that no conclusions can be drawn. A few studies find negative effects, such as violent porn may influence children from already problematic families, or Porn creating negative body images. Others find the opposite.
Human-Stupidity Analysis
The negative effects are probably false, a confirmation bias. After all, the powerful feminist and religious dogmatics are eager to prove that porn is terribly damaging.  Porn must be really harmless to children and adults, if a large part of research results dodges feminist and religious dogma and finds no harm, even in adolescents.
As Human-Stupidity would expect, "Der Spiegel" reports that moral panic and sex laws in themselves are detrimental:  giving minors access to porn is a felony. Thus educators and teachers can not teach responsible use of porn, nor clarify doubts, by watching porn with the minors.
More details from "Der Spiegel"
Girls rarely watch porn, usually together with giggling girl friends.
Boys are very interested in porn, but tend to choose the normal stuff: oral and vaginal sex. Perversions gross boys out and are watched occasionally for curiosity, but not used for excitement and masturbation.
Happy porn stars like Miriam Weeks, aka "Belle Knox" are an irritant to feminist dogmatists, and fellow students in general, who call her a "whore" who should be raped and killed.
The German public discussion sees pornography as a problem, as a pathology. This is true in the case of child porn, abuse of the weakest in our society, says "Der Spiegel". Human-Stupidity disagrees, as most so called child porn are harmless photos of 17  year old "children" that are in no way abused (see copine scale).
David Cameron's internet porn blockade uses child pornography as an excuse and ends blocking legitimate sites, for example for abused women and homosexual adolescents in a crisis.
Feona Attwood, aka. Dr. Porn,  from London's Middlesex University, just founded a scientific journal "Porn Studies".
Silja Matthiesen from "Institut für Sexualforschung und Forensische Psychiatrie" of the University Hospital Hamburg Eppendorf did a 3 year study about 160 city youths, 16 to 19 years. Porn consumption is as normal to them as Coca Cola. Adolescents seem very capable at controlling their own porn consumption. They know how to separate porn from real life relationships, and have normal old fashioned behavior. Most acquire Porn competency, know how to watch and interpret porn. Those very few who need adult help are at a loss: who should help them? Teachers? Priests?
Gert Martin Hald led a Dutch study, with 4600 young people from 15 to 25 years. He concluded that Porn consumption does NOT lead to more sexual adventures.
Australian researcher Brian McNair writes in "Porn Studies", that "pornification" clearly led to lower rates of rape and sexual violence.
Christian sexual morals seems the cause for panic about porn.
Most people think that they themselves can deal with the internet porn flood, but are worried that others can not ("third party effect")