Jiu Jitsu Professor Daryell Dickson Menezes Xavier beat up and raped his 1 year 8 months old step son in Taguatinga, suburb of Brasilia. He turned himself in, with his lawyer, and was held for a 30 day 

Daryell was raped by about 20 prisoners. He had injuries all over the body, the most serious ones in the anal region. Insatisfied, and still furious about the crime committed by the professor, the prisoners tore apart the stitches that he received and raped him again. The blood stains on the rear of the short of the young man are proof of how much he suffered.
Source: Rapist of one year old boy gets paid back double dose [3'] [4] [5] [6]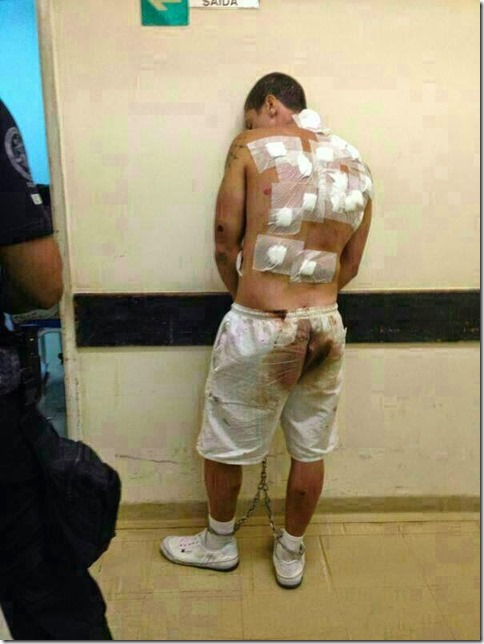 Many commenters praise the prisoners for their vigilante action
. Only a few wonder what happened to civilized behavior.
Human-Stupidity Analysis
The most politically correct anti death penalty activists discover their vigilante spirit when the issue is child sex abuse
The fact that the child died from beatings seems irrelevant and gets lost in the midst of the outrage about the child sex abuse. Nowadays even the mildest form of child sex abuse is treated worse then murder.
The feminist re-definition of rape is especially devious, as prisoners would ignore the small difference between a real forcible rapist and an alleged child groper, or consensual statutory child rapist of a 17 year old *child. Thus vigilante justice is frequently meted out to registered sex offenders who might have peed against a tree or inadvertently possessed non-sexual photos of 17 year olds. (see Copine scale, Jack McClellan)
Prison "justice" is devoid of due process rights and might be applied to innocent people victims of SAID (false sexual allegations in divorce). Lack of due process and "guilty until proven innocent" attitude pervades the normal legal justice system.
It is clear from the outset that a child rapist has it coming when turned over to 20 hard core prison cell mates. Returning him to his cell mates for further raping after getting his anus stitched up is truly devious. But commenters seem to agree that he deserves to be raped daily to the end of his days.
If people think that rape is a deserved punishment, it would be more honest to devise corporal punishment Singapore or Sharia style. But after due process and with assurance that the victim will not get AIDS during his prison stay. See: Stop Prison Rape! Legalize Corporal Punishment (Whipping)
Brazil has a history of serious crime going unpunished. Minors under 18 can commit murder without getting punished, rather they get 3 years of educational measures and, afterwards, a clean criminal record. So outrage and criminal vigilantism have a history in Brazil (check YouTube for vigilante beatings in Brazil).  see: Killer "child" (17.99 years old) enjoys impunity and anonymity of Brazil's child protection law (ECA)
It seems that he really is guilty of the act as he had turned himself in to police, saying he was possessed by demons when he did it. He also was in charge of the infant. But, false confessions and false self accusations do exist in legal history.
It would be only fair to adhere to universal principle of human rights and prohibition of torture and of cruel and unusual punishment and treat even child raping killers as human beings.