Women tennis players get  the same pay for less work (fewer shorter sets), lower performance (women are chanceless against any male top 500 player), less productivity (they have fewer spectators that pay less). In other words, women's equal prize money gets subsidized  by the performance of the males.  Equal prize money actually leads to Wimbledon top 10 women getting higher pay then men. Women play shorter games, thus they have time to make extra money in more games, like doubles. Women also tend to get more sponsor money.  ESPN
Feminists manage to interfere in free market pricing of wages and prizes and enforce excessive pay for women.. Free market admission prices are lower for a spectator's seat in women's finals.
Venus Williams, the defending champion and three-time winner, said the women simply want to be treated equally.

"This is not just about women's tennis but about women all over the world," she told BBC Radio before Wimbledon's announcement. "At Wimbledon we would like to have equal prize money to prove that we are equal on all fronts." 2
The same Venus Williams that was annihilated by #203 in the men's ranking!  Such demagoguery . If women are "equal on all fronts", why do women need separate categories? Let them play against men, and whoever wins gets the prize.
Human-Stupidity Analysis: women get same pay for lower productivity
We are absolutely dumbfounded how the world has been brainwashed that women should get the same money for lower productivity, less work, lower performance.
Feminist success is admirable. The suffragettes got the vote without the draft. Today women get quotas for executive jobs but no quotas for death row.And now. equal pay for less work. Women  world-wide receive about twice as much pension money as they deserve: they contribute less and receive more then men.
WIMBLEDON, England (AP) — After years of holding out against equal prize money, Wimbledon bowed to public pressure Thursday and agreed to pay women players as much as the men at the world's most prestigious tennis tournament. 4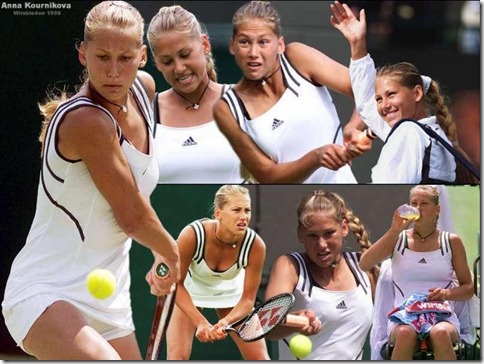 Feminists exert public pressure to get women  undeserved "equality" for unequal work.
We are stunned how undeniable, but politically in-correct, facts get covered up by academic research, politicians and the press. We had to search hard to find hard data on gender differences, on real competitions between men and women. 
Women: inferior players
One might perfectly say that a top class women tennis player should get the same money as an equally strong male player. Women's #1 champions are chanceless against the Top 500 men. #203 ranked man totally annihilated both Williams sisters in one afternoon.   So why should the top ranked women be paid more then the male # 500 that plays better then she does, and who gets no prize whatsoever? ` When female player Chris Evert-Lloyd was at her peak, she said her brother who played low level college tennis beat her (authoritative source for this, anyone?)
We suspect that maybe women champions are chanceless against the top 10 000 male players. They are just to embarrassed to try. It sure would make an interesting project for college research or a TV series: Top 10 female Tennis Players against the #5 man of Stanford University.  It would be a serious blow to feminist equality claims, if the #1 ranked  woman champion loses against the #15 ranked man of an average College.  Political correctness has a vested interest to hide such facts.  Interestingly, women can not even compete with men in chess or snooker, where physical prowess is of no importance.
Women: shorter duration play
So if fewer spectators pay to see females play compared to the men, and broadcasters tolerate the women's game rather than actively promote it, then how can they justify the equal prize money that some of them — most notably the Williams sisters — lobbied so forcefully for?  […]
Should women's finals be according to the same rules as men's finals?
Because as top female player Jelena Jankovic whined last week at the prospect of playing best of five: 'What, you want to drive us into oblivion?'

So, we want the same money because we're women. But we don't want to do the same work. Because we are women.

But only a sexist pig would point out that absurdity, of course."
Venus Williams feminist political message
I believe that athletes — especially female athletes in the world's leading sport for women — should serve as role models. The message I like to convey to women and girls across the globe is that there is no glass ceiling. My fear is that Wimbledon is loudly and clearly sending the opposite message…. 5
In other words: If women, unjustly, get equal money for unequal work in sports, then it sends a message for women to get equal money for unequal work in the work place.
The pay gap lie
Similarly, the so called pay gap in the work place is a lie, which unfortunately is repeated even by the Barrack Obama and Hillary Clinton.  Warren Farrell has proved that the pay gap is due to women's work choices and that, due to affirmative action, women earn MORE for same work.
70 year olds, children, midgets, featherweights, handicapped:  justice and equality for all
Let us get equal prize money for the children's tennis champion, the over 70 year old master's champions (they spent 60 years training, and thus should get bigger prizes), the handicapped people's special Olympics champion. After all, they are all champions! One should not discriminate by age or handicap! And of course, the featherweight boxer should get the same prize money as the heavy weight champion of all categories. What about a midget category in basket ball? Why should midgets get paid less then Michael Jordan?
Women tennis players secured equal prize money in the four Grand Slam tournaments on the back of political correctness without any logic. This has not been achieved in any other sport (except as jockeys, who compete on equal terms).

Obviously the men play longer. There has ben some call for women to play best of five sets (not from the the Women's Tennis Association), but it is not reasonable in terms of physical endurance,

The men's quality is better. Since Serena Williams was thrashed by a lowly ranked (about 250) man, there has been silence on that issue. At one time women's tennis was different; there was emphasis on delicate placement, but  regrettably this went out when Martina Hingis could not withstand the hard hitting style of Serena Williams. Nowadays the styles are the same.

But these considerations are irrelevant. Professional tennis players are entertainers. The rule in entertainment is that you get paid according to how many bums you put on seats, irrespective of your gender. Since the men's and women's events are run concurrently the disparity in drawing power is masked to some extent. According to Paul McNamee (The Age 15 Jan 2011):

'The charge for the women's semifinals has had to be reduced. In 2009, there were 4000 unsold seats to the women's final. Then in 2010, opening its coverage of the women's final, the BBC commented that the tranches of empty seats were embarrassing. Which it was, when you consider the combatants were two greats of the modern era, Serena Williams and Justine Henin, but not altogether surprising when the price of a ticket was $289!

So this year the price has been frozen at $289, while the men's final has risen $50 to $339. The men's semis are $199, and the women's semis $179.'

In 2011 all semifinals looked on TV to be sellouts, but the women's was a double header, whereas the men's was run in two sessions.
It may be two years since Wimbledon and the French Open joined the other major tournaments in offering women the same cash prize as men, but for some tennis fans the issue is far from resolved.
Women play shorter games, have less spectators, and are totally chanceless against top male players.  Amazingly, they managed to get the same pay
King hoped to put the matter to rest in 1973 when she took on self-proclaimed male chauvinist Bobby Riggs in now famous match known as "The Battle of the Sexes."
The most absurd situation: the top seeded woman wins against a sedentary fat old man that was world champion a few decades before. That is all they can do? This is supposed to prove anything? Only by female logic.
But amazingly, men swallow such ridiculous logic.
Had the situation been inverted and Billie Jean King, born 1943, played against the men's top seeded player in 1997, at age 53, it would have been a very pitiful event. Anyone would bet on Billy Jean King 1997 against Boris Becker, Pete Sampras or André Agassi?  
King hoped to put the matter to rest in 1973 when she took on self-proclaimed male chauvinist Bobby Riggs in now famous match known as "The Battle of the Sexes."

Riggs, a former men's number one, claimed the women's game was so poor that even he, as a 55-year-old retiree from the sport, could beat the top female players.

King accepted the challenge and thrashed Riggs 6-4, 6-3, 6-3 in front of a television audience of millions.

Those who argue for lower pay for women's tennis say they play fewer sets and attract a smaller television audience so they should receive less money.
"Right on the money. Women's tennis is boring. Typical game. "Ugh. Grunt. Ugh. Grunt. Ugh. Grunt. Out. Love-Fifteen," one said.

Another added: "It's about time someone said what everyone was thinking." More chimed in: "Everyone agrees, few will say it" and "totally agree. Women's tennis is pathetic."
Billie Jean King has heard it all before. The former world number one has spent a good part of the last forty years campaigning for equal prize money, and equal status, for women.

The decision by the All England Tennis and Croquet Club in February 2007, and then the French Open one day later, to award equal prize money to women marked the end of a fight that started in 1968, the first year of Open tennis.

"When Rod Laver won Wimbledon, he got £2,000. And when I won Wimbledon in the same year, 1968, I got £750," she told CNN in an interview filmed for this month's edition of "Revealed."
Women champions chanceless against men in Tennis
In 1998, 203rd ranked male player Karsten Braasch took on Venus Williams and beat her 6-2. He also played Serena Williams and won 6-1 after the Williams sisters, who were 17 and 16 at the time, said they could beat any man ranked 200 or worse. Braasch said afterwards, "500 and above, no chance" as he claimed he had played like someone ranked 600 in order to keep the game "fun."  Battles of the Sexes | Wikipedia
Boris Becker described Serena's request [to play against men] as "a pretty good joke".
"I doubt it very much if Serena could compete with the men. She is very masculine and very strong, but if you compare her game to the likes of Pete Sampras or Andre Agassi in all honesty you are talking about two different sports." 3
Karsten Braasch is the German tennis player who did just that in 1998

It was the 1998 Australian Open and the Williams sisters, Venus and Serena, had seen some of the male players practising. On the basis of what they saw, they were convinced that they could beat a man ranked around 200 in the world and wanted to set up a game. At the time I was ranked 203
On 25 September 1992, Martina Navratilova, 36, played Jimmy Connors, 40, at Caesars Palace, Las Vegas. Navratilova lost, 7-5, 6-2, in spite of being allowed two serves to her opponent's one and hitting into a court four feet wider. 3
Women do earn more then men at Wimbledon
"Women's tennis players are getting as many sponsors and media coverage as the men," Sharapova said. "I understand that our TV ratings at the Grand Slams are pretty much equal to and often better than the men. So I don't understand the rationale for paying the men more than us."

Phillips said because top men rarely play in Grand Slam doubles events, they earn less overall than women. In addition, the men play best-of-five set matches while the women play best of three.

"It just doesn't seem right to us that the lady players could play in three events and could take away significantly more than the men's champion who battles away through these best-of-five matches," Phillips said. "We don't see it as an equal rights issue."

With $53,600 difference in prize money between the men's and women's winners, Phillips said the issue was one of principle.

"Obviously, it's something that could be done and we could respond to the pressure that we come under by doing something that we fundamentally don't think would be fair on the men," he said. "We also would point that the top 10 ladies last year earned more from Wimbledon that the top 10 men did."   ESPN