Socialist Hollande triumphs in French presidential poll, thanks to Nafissatou Diallo and feminist rape and harassment laws. Hollande had already declared he would run against Strauss-Kahn in the Socialist primary race last year when Strauss-Kahn's political career was cut short by allegations he had assaulted and attempted to rape the New York hotel worker Nafissatou Diallo. Charges against Strauss-Kahn were eventually dropped, with prosecutors citing "substantial credibility issues" with the alleged victim. 1
Nafissatou Diallo had accused Dominique Strauss-Kahn of rape. Feminist pressure ahs dismantled due process specifically in rape accusations. So Dominique Strauss-Kahn was imprisoned upon a mere unproven and uncorroborated accusation. Were he a mere mortal without a million dollar dream team of lawyers, investigators, and bail payments, he probably would not have escaped and spend decades in prison. But still, his career was over. Thanks to this unproven accusation by Nafissatou Diallo, a proven liar and embezzler. Add to this some other accusations of improper and somewhat aggressive pursuit of women. Such harassment laws, also espoused by feminists, protect women from the terrible trauma of being pursued with too much zeal by men.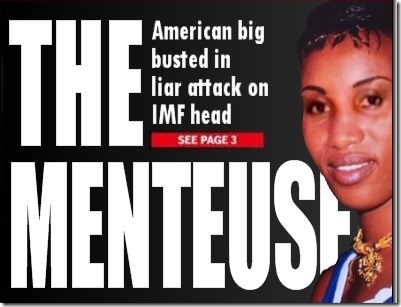 Human-Stupidity keeps wondering why feminism is not about female empowerment, about finding the inner strength so they could deal with verbal behavior without needing protection of a police state.
Were it not for Nafissatou Diallo, and feminist rape and harassment legislation, Strauss Kahn would have remained his party's favorite and is likely to have been in the race and might have become French president. Dominique Strauss-Kahn's arrest paved the way for a goal that had long eluded the political career of 57-year-old French Socialist François Hollande: to square off against President Nicolas Sarkozy in next month's election. The international monetary fund got a different chief with different policy regarding the Euro. A hedge fund manager could have made Billions had he foreseen Strauss-Kahn's arrest and the subsequent fluctuations of the exchange rate.  Many powerful men have been marred and destroyed by women's allegations.