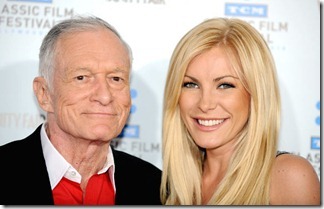 We do have loop holes in our sex offender laws. Obviously, Hugh Hefner preying on a woman 60 years younger is a perversion. This is just disgusting. We need laws against that. Sex or marriage with anyone more then 3 years older or younger should be a felony.  That is, if the older party is male, of course. Sexual liberation of Cougars, of the protected class "female" may not suffer consequences for their actions. May be, in this case, a 21 year old young man is taking advantage of a 51 year old woman who is unable to consent due to her irrational attraction?
Or at least violation of the "half age plus 6 years" rule should be made a felony. So 84 year old Hugh Hefner could not abuse any woman younger then 84/2 + 6 = 42 + 6 = 48 years, or would be punished for statutory rape of a 47 year old, incapable of consenting to sex with an old geezer like Hugh Hefner. He should be in jail for objectifying women in Playboy Magazine, anyway.
Our sex offender laws are not being enforced. Anyone that has illicit sex with rapes an under 18 y old minor in California needs to get tried and arrested. Yes, that includes minors too, in California two 17 year olds are not allowed to have sex with each other. That, finally, would allow us to imprison a few million men in California, and only a few women (because in couples, men tend to be the older one of the two).
He 84 y, she 24 y (60 years age difference)
Love really must be blind — at least, for 84-year-old Hugh Hefner's new twenty-something fiancé. Playboy Playmate Crystal Harris, 24, told 'Entertainment Tonight' she hardly recognizes the 60-year age gap between herself and her husband-to-be.
'I don't notice the age difference with Hef at all,' Harris said. 'If anything, I have to keep up with him!' Harris said Hef's energy level often surpasses the blond bombshell, who was Playboy Playmate of the Month in December 2009 NY Daily News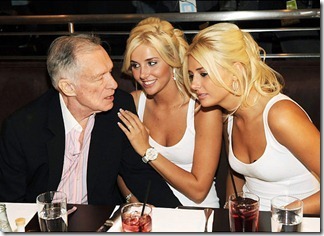 But the 83-year-old Playboy publisher took his tried-and-true May-December romance to a whole new level when he started dating then-19-year-old twins Kristina and Karissa Shannon, in 2008 [83-19= 64 years difference] The girls went on to star in 'The Girls Next Door,' but the media mogul and the Shannon twins parted ways in early 2010, so Hef could focus on his other blond girlfriend, 23-year-old Crystal Harris.
Don't miss our articles on
Women Cougars marrying young men is sexual liberation
When a repressed class violates old norms and robs the cradle, then this is sexual liberation, very different from horny perverted men marrying young women. Go girl, liberate yourself and all women from age restrictions!
When Madonna and her ten-years-younger husband, Guy Ritchie, called it quits in 2008, the eternally youthful material girl wasted no time rebounding with an even younger boy-toy. Madge started dating 23- year-old Brazilian model Jesus Luz in 2009, and the pair has been spotted all over the globe since.
Ick Factor: Jesus' mother is 14 years younger than Madonna.  NY Daily News
The Cougar queen
Hulk Hogan's ex-wife, Linda Bollea, takes the cake as the cougar queen. Linda, 51, and her 21-year-old boyfriend Charley Hill, started dating when he was only 19! But the duo's matching platinum 'dos aren't the freakiest thing about this relationship …
Ick Factor: The Hogan kids, Brooke and Nick, are 21 and 19, respectively. In fact, Charley is a former classmate of Brooke's.
Read more: NY Daily News
Wait, there is more! This article continues! Continue reading "Old geezer perverts marry jail bait. Sexually liberated Cougars marry young men." »
Old geezer perverts marry jail bait. Sexually liberated Cougars ma…
» continues here »