George Zimmerman declines 'stand your ground' hearing.
"We decided to focus on the idea that George wants to have a jury of his peers decide his case," O'Mara told reporters, according to the Associated Press. "And it's going to be, I think, a more accepted result for everyone who has to accept the result — that he gets an acquittal at trial, more so than an immunity hearing given by a judge."
Everyone knows that no judge can afford to let Zimmermann go, or else risk rioting, looting, and lose re-election. So he can not easily be acquitted:
No matter that most "proof" of his guilt proved to be lies.
No matter that Zimmermann's statements have never been disproven. He has never been caught lying about facts of the case. Except, maybe about the value of donations received. 
No matter that the state has to prove guilt, and not Zimmermann has to prove innocence.
no matter that the main witness, Martin's girl friend Dee has lied about simple facts as her age, and was primed, prepared, and deposed by Trayvon Martin's lawyer
George Zimmermann cannot have a fair trial, due to unchecked black intimidation, black violence, black racism, and biased press
FBI refuses to release the details of their investigation (probably because these details favor George)
George Zimmermann killed Trayvon Martin, after getting his nose broken, the back of his head seriously banged up. In violation of the iron legal maxim "Don't talk to Cops" he totally cooperated with police, proving that he was acting in self defense. Not one lie, no contradiction was found in his testimony.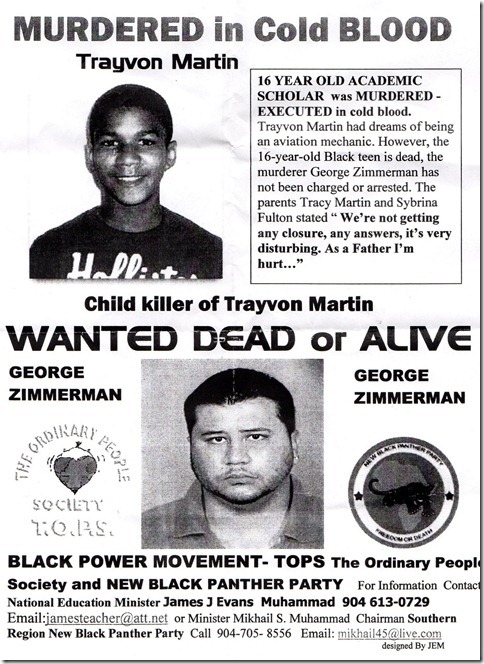 An outcry of Black fanatism, including president Obama's infamous meddling in a police case: "If I had a son he would look like Trayvon", caused the case to be re-opened. George Zimmermann was evicted from his college, is in hiding from unpunished New Black Panthers mob violence,  He is totally broke from legal expenses.
The reason for Florida's "stand your ground" laws was exactly to spare good men – who act in self defense – the ruinous expense to hire a lawyer.
based on the times and distances Zimmerman said he covered, Zimmerman would have still been on the phone with Sanford police when he claims he was attacked by Martin;
Interestingly, Michael Knox desperately tries to look unbiased. Because the facts are so overwhelmingly in George's favor. So he finds every little straw that casts light doubt upon George. If George stopped a while to look around, that is enough to explain why he was not back to his car.
had Martin walked directly to his destination, his father's girlfriend's townhome, he would have made it there safely before Zimmerman ended his nonemergency call to Sanford police;
It is harder to explain why Martin had backed up and returned, instead of just simply going home.
Martin was in fact leaning over Zimmerman when the fatal shot was fired, just as Zimmerman has maintained.

To reach that last conclusion, Knox examined both a Florida Department of Law Enforcement report on the gunshot's impact to the hooded sweatshirt Martin was wearing and the autopsy report describing the gunshot wound to the body.

The medical examiner determined the gunshot was fired from "intermediate range," but the hoodie showed a "contact" shot, indicating the muzzle of Zimmerman's gun was touching or extremely close to the fabric when the shot was fired.

Knox explained that the loose fitting sweatshirt was farther away from the body because of gravity, which pulled it down as Martin was situated above Zimmerman.

That is consistent with Zimmerman's claim that he was on his back struggling with Martin when he reached for the gun, pointed it upward and fired, Knox said.

"We look at the physical evidence and then we say, 'What does it tell us?'" said Knox, who before his 2010 retirement testified often for the same state attorney's office that was specially appointed by the governor to prosecute Zimmerman.
Knox also says that Zimmermann could have gotten back to his car before the struggle, and Trayvon Martin could have easily gotten home. Of course, neither of the two would be obliged to do so. And Zimmermann had more reasons to stand, linger, wait and look. Trayvon Martin would have more reason to walk a quarter of a mile to get home and out of the rain.
More than 2:30 passes between the time Zimmerman hung up with Sanford police (7:13:39) and when a neighbor who heard the commotion connected with a 911 operator (7:16:11). The struggles continues on that call for 45 seconds, until the fatal gunshot is heard at 7:16:56.
Wait, there is more! This article continues! Continue reading "More proof of George Zimmermann's self defense and innocence. A book review." »
More proof of George Zimmermann's self defense and innocence…
» continues here »