One in two rape accusations (over 50%) are false: Dominique Strauss-Kahn escaped the inquisition. Others are not so lucky. They get convicted, falsely. We wish we could say Dominique Strauss-Kahn escaped unscathed. But he suffered tremendously. He lost his job. Speculator could have made Billions, because the value of the Euro dropped due to his arrest, and other unexpected stock market irregularities occurred. 
Let us remember the thousands of men that are less lucky then Dominique Strauss-Kahn.
For every Strauss-Kahn, there are dozens of men that don't escape unjust persecution
One in two rape accusations are false. Like Strauss-Kahn, thousands of men are presumed guilty, jailed and smeared without due process. They can not afford to spend millions of dollars for bail, a dream team of lawyers, detectives, and their own guards for domestic prison as Dominique Strauss-Kahn did. We only hear of the few lucky ones that escape. The Jörg Kachelmann rape case in Germany similarly ruined a successful public man's career, had a man spend months in jail, because of unproven uncorroborated accusations by a woman, who also was caught red-handed lying about important facts.
"Of course, if she is a liar, that still does not mean she was raped. " Yes, but in that case, she'd better bring a long a tape recording proving the act of rape against her clear resistance. In our legal system, where men accused of sexual offenses are presumed guilty until proven innocent, they have to provide proof of their innocence. In the famous Hofstra false rape case the male victims of false rape accusations were only freed after providing video recording that showed that the sex act was totally consensual and very different then described in the false accusations.
For every acquitted man, there are dozens of unjustly imprisoned victims of false rape accusations.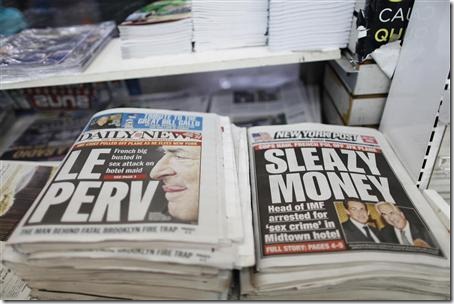 Now consider this, how many men take video recordings of their sex acts so that they can later prove the consensual nature of their sex acts? Can you imagine: for every man that can prove his innocence, how many men stay in jail and go to prison, upon unproven, wrong allegations of sexual misconduct? Remember: One in two rape accusations are false.
No wonder, that with such medieval legal practice
Wait, there is more! This article continues! Continue reading "One in two rape accusations are false! Strauss-Kahn, presumed guilty, jailed, slandered without due process, escaped. Others are not so lucky!" »
One in two rape accusations are false! Strauss-Kahn, presumed guil…
» continues here »