Brazil has a more healthy attitude towards sex and prostitution. They rather forfeited US Government money so they could do their efficient anti-Aids work without US moralistic influence.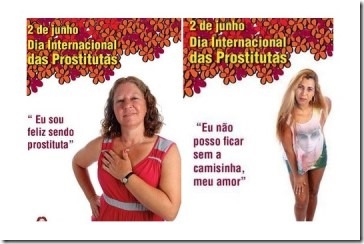 "I'm happy being a prostitute." That was one of the slogans the Brazilian health ministry posted online for several days this week until complaints from the nation's growing ranks of Christian Evangelicals forced the ministry to replace the message on Wednesday with a much tamer one: "Not ashamed of using a condom."

Part of a broader web campaign for International Prostitute Day, the message was meant to destigmatize sex work and its associated health risks, according to a Reuters report. The campaign also encourages prostitutes to seek medical attention when needed. Another slogan read: "I cannot be seen without a condom, my love," according to the Christian Post.
Brazil totally legalized prostitution for consenting adults. Buying and selling sex. But in a strange way Brazil made absolutely everything else illegal.  All kind of helping, intermediating, promoting, abetting prostitution, is punishable, even if not for profit,